Centre initiates aggressive disposal of onion through NCCF, NAFED, Kendriya Bhandar and State cooperatives @25 Rs per kg

Department of Consumer Affairs procures 5.06 LMT onion for disposal through e-sales, e-Nam auction and bulk sale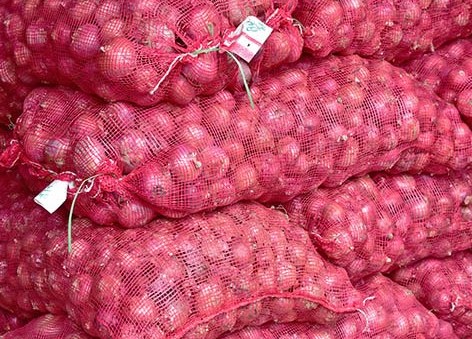 The Government has initiated aggressive retail sale of onion from the buffer at subsidized price of Rs.25 per kg to protect the consumers from recent increase in onion prices due to delay in the arrival of kharif crop. This comes as another measure in addition to the slew of measures put in place to ensure availability and affordability of onion to domestic consumers such as, imposition of Minimum Export Price (MEP) of USD 800 per MT with effect from 29th October, 2023, enhancement of buffer procurement by 2 lakh tons, over above 5.06 lakh tons already procured, and the continuous disposal of onion through retail sales, e-Nam auction and bulk sales in wholesale markets since second week of August.
The Department of Consumer Affairs has started aggressive disposal of onion through retail outlets and mobile vans operated by NCCF, NAFED, Kendriya Bhandar and other State controlled cooperatives at subsidized price of Rs.25 per kg. Till 2nd November, NAFED has set up 329 retail points, consisting of stationary outlets and mobile vans, in 55 cities across 21 states. Similarly, NCCF has set up 457 retail points in 54 cities across 20 states. Kendriya Bhandar too, has started retail supply of onion through its retail outlets across Delhi-NCR from 3rd November, 2023 and Safal Mother Dairy will start from this weekend. The retail sale of onion to consumers in Telangana and other southern states are being taken up by Hyderabad Agricultural Cooperatives Association (HACA).
In order to control the seasonal price volatility between rabi and kharif crops the Government maintains onion buffer by procuring rabi onion for subsequent calibrated and targeted release. This year, the buffer size has been raised to 7 LMT from 2.5 LMT in 2022-23. Till date 5.06 LMT of onion has been procured and the procurement of balance 2 LMT is in progress.
The proactive measures taken by the Government has started showing result as onion prices in benchmark Lasalgaon market declined from Rs.4,800/qtl on 28.102023 to Rs.3,650/qtl on 03.11.2023, a decline of 24%. Retail prices are expected to show similar decline from the coming week.
It may be recalled that when prices of tomato shot up from last week of June, 2023 due to supply disruptions caused by monsoon rains and white fly infestation, the Government intervened by procuring tomatoes through NCCF and NAFED from producing States of Karnataka, Andhra Pradesh and Maharashtra and supplied at a highly subsidised rate to consumers in major consumption centres. The procured tomatoes were sold to retail consumers at subsidized price; starting with Rs.90 per kg and successively reduced to Rs.40 per kg. Through retail intervention, tomato retail prices were brought down from the peak, all-India average retail price of Rs.140 per kg during first week of August to around Rs.40 per kg by first week of September, 2023.
Pulses are important source of nutrition for majority of Indian households. To ensure availability and affordability of dal to ordinary households, the Government has launched Bharat Dal at subsidized prices of Rs.60 per kg for 1 kg pack and Rs.55 per kg for 30 kg pack. Bharat Dal is made available for retail sale to consumers and for supplies to Army, CAPF and welfare schemes through NAFED, NCCF, Kendriya Bhandar, Safal and state controlled cooperatives in Telangana and Maharashtra.
Till date 3.2 LMT of Chana stock has been allocated for conversion out of which 75,269 MT has been milled and 59,183 MT has been through 3010 retail point (stationery outlets mobile vans) across 282 cities. The supply of Bharat Dal is being increased in the coming days to make over 4 lakh tons of Bharat Dal available to the consumers throughout the country.