IICA commences fourth batch of Certificate Course onRegulatory Governance
The Forum of Indian Regulators (FOIR) Centre at the Indian Institute of Corporate Affairs (IICA) formally launched Fourth Batchof its flagship Regulatory Governance (RG) Course in Manesar, today. The course includes multi-sectoral participation from FOIR member organisations as well as non-FOIR entities, with an enrolment of 52 participants.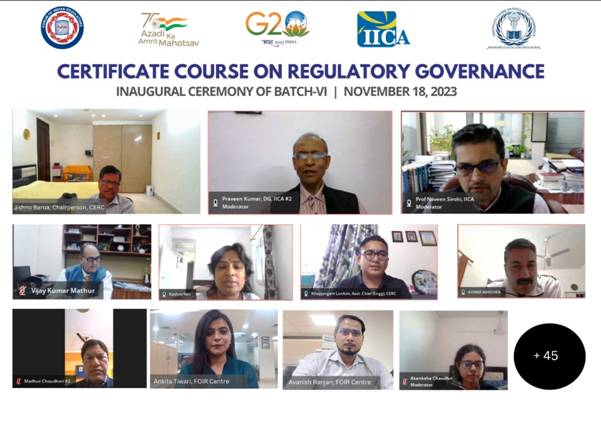 Participants from FOIR members represent Central Electricity Regulatory Commission (CERC) and several State Electricity Regulatory Commissions (SERCs), Telecom Regulatory Authority of India (TRAI), Insolvency and Bankruptcy Board of India (IBBI), Petroleum and Natural Gas Regulatory Board (PNGRB), Tariff Authority for Major Ports (TAMP), Food Safety and Standards Authority of India (FSSAI), and Real Estate Regulatory Authority (RERA) – Punjab.
Open market participants include officials from National Bank for Agriculture and Rural Development (NABARD), Directorate General of Hydrocarbons (DGH), NTPC Limited and private sector entities.
The inaugural session was graced with the presence of ShriJishnuBarua, Chairperson, CERC and Shri Praveen Kumar, Director General & CEO, IICA.
In his address, ShriJishnuBaruastated the unifying role of FOIR in collectively addressing contemporary regulatory challenges, emphasising the need for cross-sectoral collaboration. He also commended the greatly beneficial association of FOIR with IICA.
ShriPraveen Kumar extended his thanks to MrBarua and DrNaveen Sirohiduring the launch of the course. While informing everyone of the relevance of the courses offered by IICA in the field of Corporate Governance, he focused on the vital role of the RG Course in remaining undated about regulations.
Prof Naveen Sirohigave an overview of the course design emphasising its role in improving the regulatory ecosystem in India.
About FOIR:
FOIR was formally registered as a Society in 2000 and has 38 members, representing central and state regulatory bodies from diverse sectors. It provides an essential common platform for discussion, information and experience sharing, and evolving common strategies for addressing regulatory issues and challenges in India.
About FOIR Centre, IICA:
The FOIR Centre at IICA is the knowledge partner of FOIR and provides capacity building, education, research and advocacy support for academic upgradation and intellectual development of members and officials of FOIR member organisations.