Mines Ministry is in the Process of Auctioning 20 Critical Mineral Blocks : Secretary VL Kantha Rao

Inaugurates Mining Pavilion "Connecting Beyond Mining" at IITF 2023

Major Attractions Include Virtual Reality Experience, Kids Zone,
Interactive Digital Communication inside the Pavilion and Workshops on Recycling
Mines Secretary Shri V.L. Kantha Rao said that the Ministry of Mines is in the process of auctioning 20 blocks of critical minerals including lithium and graphite in next two weeks. Interacting with the Media, after inaugurating the mining pavilion "Connecting Beyond Mining" at the India International Trade Fair 2023 (IITF), here today, the secretary said that for mining and processing of critical minerals indigenous technology will be explored.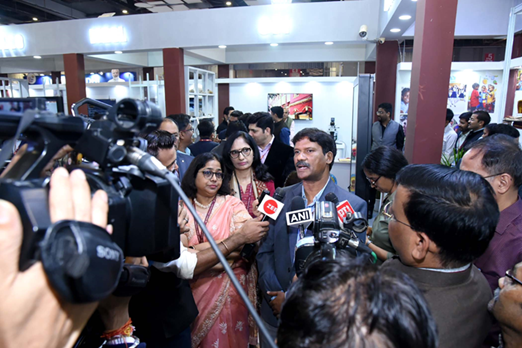 Union Minister of Coal, Mines and Parliamentary Affairs Shri Pralhad Joshi in his virtual message said,
"Minerals are integral part of our daily life and mineral serve as raw material for many industries but are also crucial and vital to energy transition to a low carbon-emission economy, and renewable energy technologies that will be required to meet the 'Net Zero' commitment as declared by our Hon'ble Prime Minister."
Complimenting the officials for setting up the pavilion, Minister of State for Coal, Mines and Railways Shri Raosaheb Patil Danve in his virtual message said that India is moving towards achieving self-reliance in every sector and the mining sector is also not behind in realizing this dream. The Ministry of Mines is participating in the 'India International Trade Fair' to showcase the success and opportunities of the mining sector.
Recently the Government has identified a list of critical minerals including new age minerals like Lithium, Cobalt and Titanium, important for meeting the modern needs of cutting-edge technology sectors like electronics, telecom, transport and defence. In recent years, the Government has introduced important reforms to open the mining sector for private participation and in particular mineral exploration. Today, there are many accredited private exploration agencies empanelled to step up the pace of exploration in the country.
To create awareness among the general public about the path breaking reforms underway in the mining and mineral sector, the Ministry of Mines is showcasing a state-of- the-art mining pavilion at IITF, Pragati Maidan from 14th to 27th November 2023.