Revenue of Rs. 94 Lakh generated so far from the disposal of scrap under Special Campaign 3.0 of  Ministry of Heavy Industries

20 Lakh Sq.ft. space expected to be freed by MHI & its CPSEs and ABs which is around 20% of the total targeted area

Swachhata Drive is being organized across more than 520 sites across India
Over 20 Lakh Sq.ft. space is expected to be freed/cleaned after disposal of scrap and other redundant material by Ministry of Heavy Industries (MHI) & its CPSEs and ABs which is 20% of the total targeted area under Special Campaign 3.0. Around 11 Lakh Sq.ft. area has already been freed. 35,648 physical files have been reviewed out of 73,980 files identified for review and 8,410 physical files have been weeded out. 3,949files have been closed out of 4,326 electronic files identified for closure. Revenue of Rs. 94 Lakh generated so far from the disposal of scrap under Special Campaign 3.0.
More than 460 Tweets have been posted so far on X (Formerly known as Twitter) by the official social media handle of the Ministry and its associated organisation to promote awareness of the campaign. The campaign is in full swing to achieve the targets set by the Ministry for the period.
As a unique initiative towards creating awareness about cleanliness for a Garbage-free India, around 150 selfie boothshave been installed at various locations across the country inviting people to take a selfie and share it on social media for the promotion of Special Campaign 3.0.
Ministry of Heavy Industries (MHI) has been conducting the Special Campaign 3.0 on Swachhta within the Ministry and across its Central Public Sector Enterprises (CPSEs) and Autonomous Bodies (ABs) located in various parts of the country with full enthusiasm. Swachhata Drive is being organized across more than 520 sites across India.
The CPSEs / ABs under MHI are actively involved in cleanliness in their establishment i.e. corporate office, regional offices, manufacturing units / plants, project sites etc.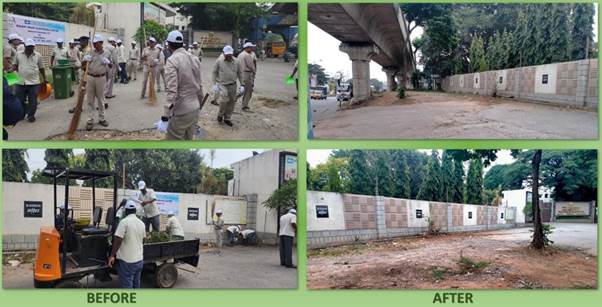 (Cleanliness drive at BHEL, EDN Bengaluru Unit)