SAMBA POLICE ORGANISED ANTI-DRUGS AWARENESS PROGRAMME AT THALORI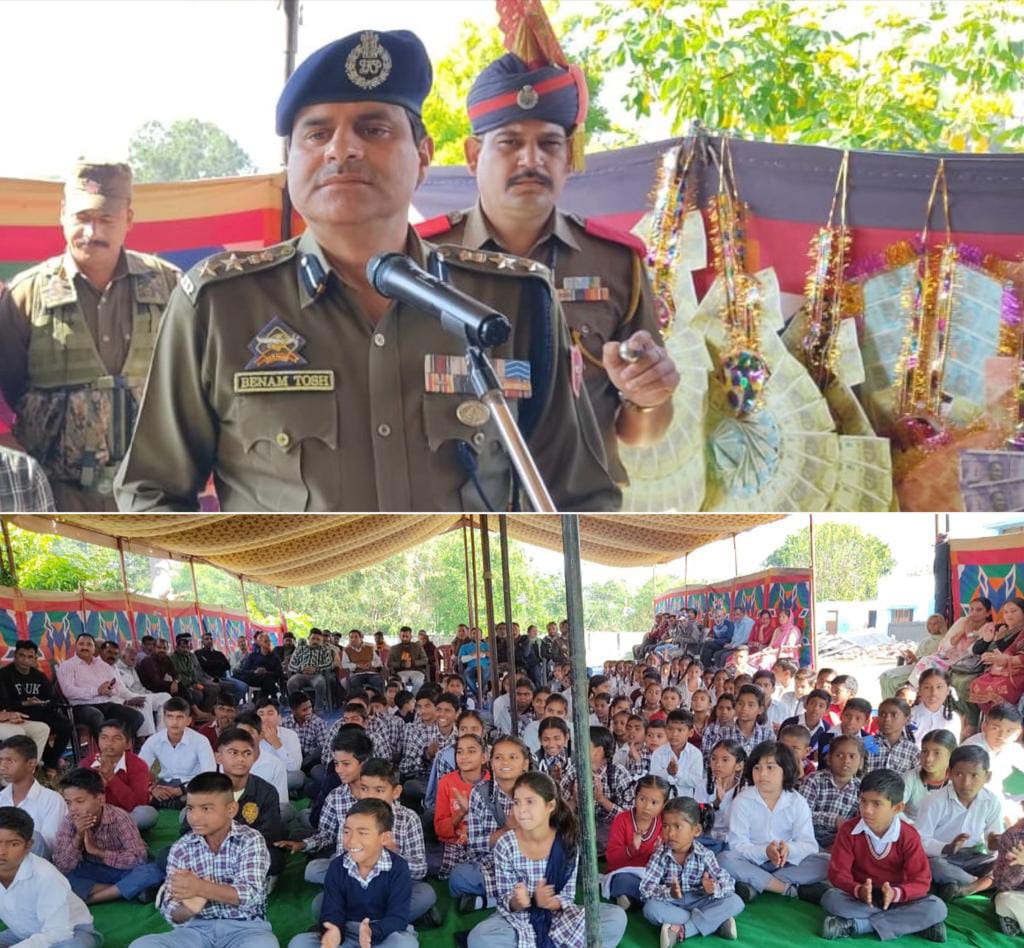 Police Will Shortly Arrest All Culprits Responsible For Deaths Due To Heroin : SSP Samba Benam Tosh
Samba, November 18 : Police today organised grand anti-drug awareness programme under Civic Action Programme at Thalori in the jurisdiction of Police Station Vijaypur where hundreds of students of several Govt.& private schools, parents, teachers, prominent citizens, PRIs and police officers witnessed the speech delivering competition. 

SSP Samba Benam Tosh, Additional SP Samba Surinder Choudhary, SDPO Viajypur Rohit Kumar and SHO Police Station Vijaypur Sandeep Charak presented certificates and cash rewards of rupees 10000.00, 8000.00 and 4000.00 to the first, second and third best student speakers namely Rashmi Devi of GMS Thalori, Kushal Bhagat of GMS Badhwal and Nandan Dogra of GMS Vijaypur respectively whereas seven other student speakers Priya Kashyap, Vansh, Muskan Devi, Harsh Attri, Arjun Kumar, Sanidhya Sharma and Nidhi Sambyal were also felicitated with certificates & cash rewards of rupees 2000.00 each. 

A large number of people of village Thalori and hundreds of students of Govt. Middle School Thalori, Govt. Middle School Vijaypur, Govt. Middle School Budhwal, Govt. Middle School Channi Manahansa and RC Academy Thalori participated in today's anti-drug awareness programme. Sarpanch Thalori Baldev Kumar, Lambardar Jhang Bhahadur and Headmistress Govt. Middle School Thalori Amar Jyoti thanked the police for organizing grand anti-drug awareness programmes at Thalori to generate awareness among students and public against drug abuse. Additional SP Samba also spoke on the occasion and asked youth to stay away from narcotic substances. 

On the occasion, Senior Superintendent of Police Samba Benam Tosh said that J&K police is working against drug trafficking with sincerity & devotion with a view to eradicate the drug menace once for all. He further assured that police would shortly arrest all culprits responsible for deaths due to heroin in Samba district and to provide justice to the departed souls who have lost precious lives due to heroin. Police would convert all inquest proceedings into FIRs in the suspicious deaths that occurred due to chitta in Samba district. SSP Samba added that police will not take respite till heroin trafficking is wipe-out and that police would take stringent possible legal action against the smugglers and suppliers of chitta. Police is organizing series of anti-drugs programmes like symposiums, seminars and debates at different schools and colleges with the objective of creating anti-narcotic awareness among students, youth, parents, guardians, relatives and making it a mass movement against drugs especially heroin called "chitta". SSP Samba informed that Police would organize more such awareness programmes, cultural events & sports activities in Samba district in near future.