SAMBA POLICE SOLVED BIG THEFT CASE, RECOVERED GOLD ORNAMENTS & CASH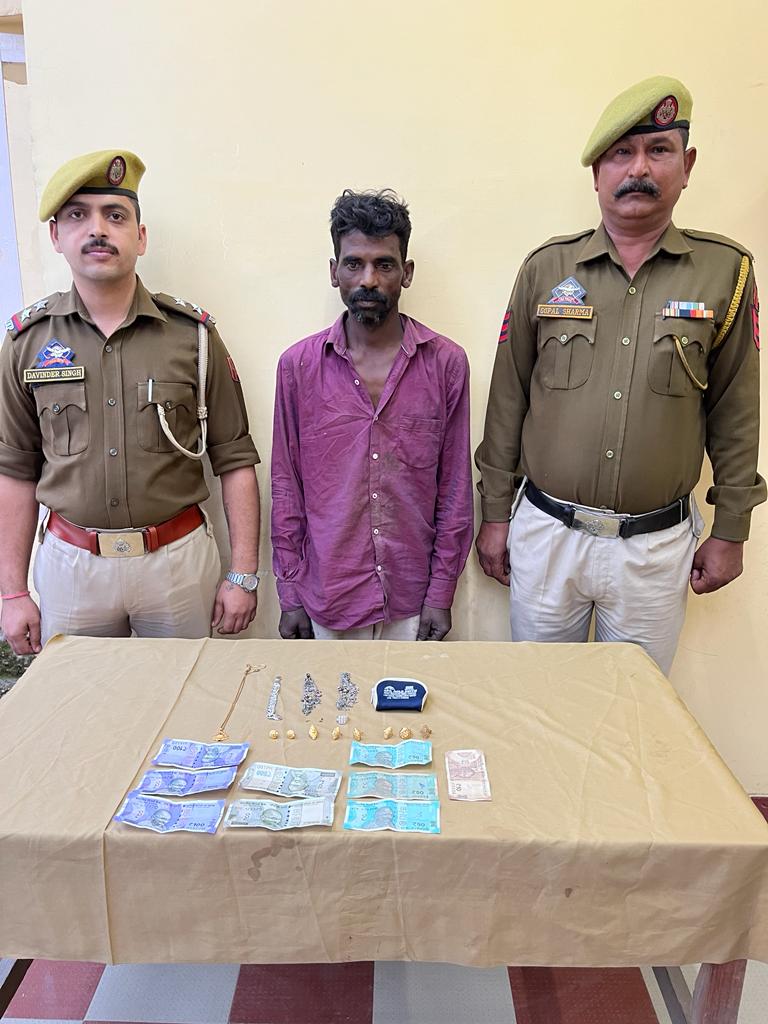 73 Theft Cases Solved, 146 Thieves Arrested In Nine Months : SSP Samba Benam Tosh
Samba, Nov 6 : Under the guidance of Senior Superintendent of Police Samba Benam Tosh, police has solved a big theft case by arresting notorious thief and recovering gold ornaments and cash.
Upon the complaint of one Romesh Singh s/o Kabla Singh r/o Rakh Amb Talli Samba regarding theft of gold ornaments and cash from his house, a case FIR No.268/2023 u/s 454, 380 IPC was registered at Police Station Samba through Police Post Rakh Amb Talli and investigation was started.
During the course of investigation, one notorious thief namely Sunil Kumar s/o Hari Ram r/o Uttar Pradesh A/P Shiv Nagar Vijaypur was arrested by police and on his disclosure stolen items viz gold rings = 05 Nos., gold chain = 01 No., gold ear tops = 04 Nos., silver ring = 01 No., silver chain = 01 No., anklet silver = 02 Nos. and some cash recovered.
The thief has been arrested by police team headed by Incharge Police Post Rakh Amb Talli PSI Davinder Singh under the supervision of SHO Police Station Samba Daljit Singh, DySP Garu Ram and Additional SP Samba Surinder Choudhary.
Senior Superintendent of Police Samba Benam Tosh said that a total of seventy three (73) theft cases have been solved in past nine months by Samba police and huge stolen property including gold ornaments & cash has been recovered. As many as one hundred forty six (146) thieves have been arrested and one top kingpin of thieves have been detained and lodged in jail under PSA.