SAMBA POLICE UNEARTHED BIG PILFERAGE OF ESSENTIAL COMMODITY, SEIZED 2 TANKERS OF INDANE GAS AGENCY & 41 BIG CYLINDERS, ARRESTED 2 RED-HANDED
Night Patrols & Raids Intensified in Samba : SSP Samba Benam Tosh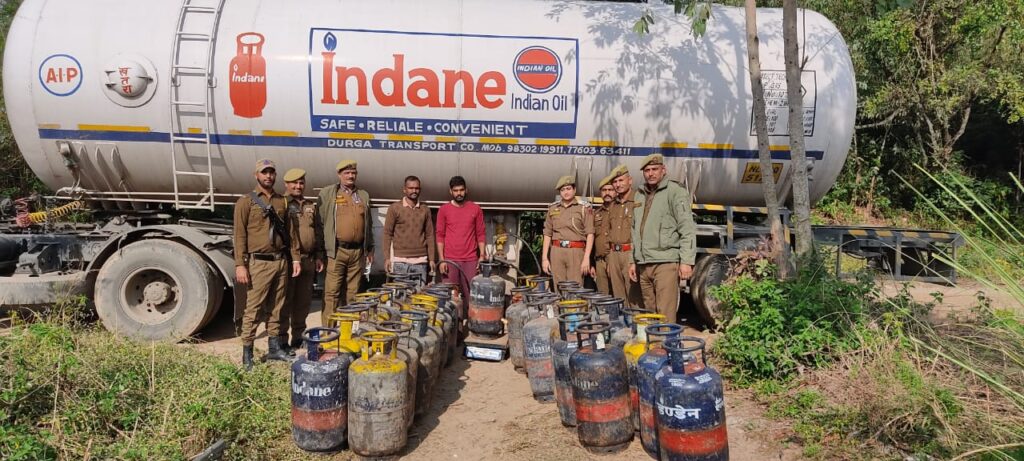 Samba, Nov 16 : Under the guidance of Senior Superintendent of Police Samba Benam Tosh, Police has unearthed big pilferage of essential commodity, seized two tankers of Indane Gas Agency & forty one big gas cylinders and arrested two accused red-handed while extracting gas from tankers using pipes and filling the same in the commercial gas cylinders to be sold at the price lower than market rates.

     A case FIR No. 274/2023 u/s 3/7 EC Act, 406, 409, 120-B, 285, 413 IPC has been registered at Police Station Samba through Police Post Supwal and investigation is underway. 

The arrested accused have been identified as Ravi Kumar s/o Girdhari Lal r/o Motlian Kalan Utterbehni, tehsil Vijaypur, district Samba and Happy Manyal s/o Ashok Kumar r/o Diani, tehsil and district Samba. However, two drivers of the tankers managed to flee from the spot taking advantage of darkness. They too have been identified and raids are being conducted to arrest them. Some more arrests are likely in this serious case of criminal conspiracy for pilferage of essential commodity, criminal breach of trust, act of habitual receiving of pilferaged property having knowledge that the same was pilferaged and rash act with combustible matter endangering human lives.

Initial investigation revealed that the same pilferage of gas from Indane gas tankers had been committed for the last over four months at the same place during midnight hours. The Indane gas tankers coming from Punjab side to Indane LPG Bottling Plant Bari Brahmana, Samba used to come to this particular place i.e Chhajwal Barian, Supwal Samba at odd night hours for pilferage purpose. 

      On the intervening night of 15th and 16th November, 2023 around 2 : 00 a.m., when the people of entire Samba district were sleeping, alert Samba Police conducted raid at Chhajwal Barian in the jurisdiction of Police Post Supwal and arrested two accused red-handed while extracting gas from big gas tankers and filling it in the big sized commercial gas cylinders.

     The nocturnal raid on the specific tip off was conducted by the Police team of PP Supwal headed by Chowki Officer Supwal, Deepika Jalotra and investigation is being conducted by SHO Police Station Samba Inspector Daljit Singh under the supervision of DySP Garu Ram and Additional SP Samba Surinder Choudhary. The tankers and gas cylinders were seized in the presence of Executive Magistrate 1st Class and Gazetted Police Officer DySP Garu Ram. 

      Senior Superintendent of Police Samba Benam Tosh said that night patrols and raids have been intensified by Police in Samba district to curb criminal conspiracies, pilferage, thefts and smuggling during night hours and perpetrators of crime being nabbed one after the other.