Union Health Minister Dr Mansukh Mandaviya visits the Ayushman Bhav Health Pavilion at the 42nd India International Trade Fair 2023 at Pragati Maidan

Dr. Mandaviya distributes Ayushman cards to several beneficiaries and urges others to get Ayushman Cards to be able to avail of valuable healthcare benefits
The Union Minister of Health and Family Welfare Dr. Mansukh Mandaviya visited the Ayushman Bhav Health Pavilion at the 42nd India International Trade Fair at Pragati Maidan, today. The theme of this year's Trade Fair is "Vasudhaiva Kutumbakam, United by Trade", while the theme of the Health Pavilion is "Ayushman Bhava".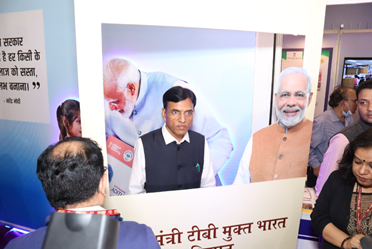 Dr. Mandaviya visited the various stalls and booths at the Health Pavilion showcasing health initiatives and schemes of the government, lauding their efforts to raise awareness amongst the masses by way of nukkad natak, games, quizzes and representatives of division imparting knowledge and answering queries of the public.
While exploring the pavilion, he actively participated in the various interactive activities at various health booths and stalls.