Union Minister of Fisheries, Animal Husbandry & Dairying, Shri Parshottam Rupala leads the second day of Sagar Parikrama
Union Minister of Fisheries, Animal Husbandry & Dairying, Shri Parshottam Rupala led the second day of Sagar Parikrama along with Minister of State Dr. L. Murugan in the presence of Joint Secretary, Smt. Neetu Kumari Prasad and Chief Executive,National Fisheries Development Board, Dr. L.N Murthy. Sagar Parikrama Yatra reached today at Tharuvaikulam of Tamil Nadu .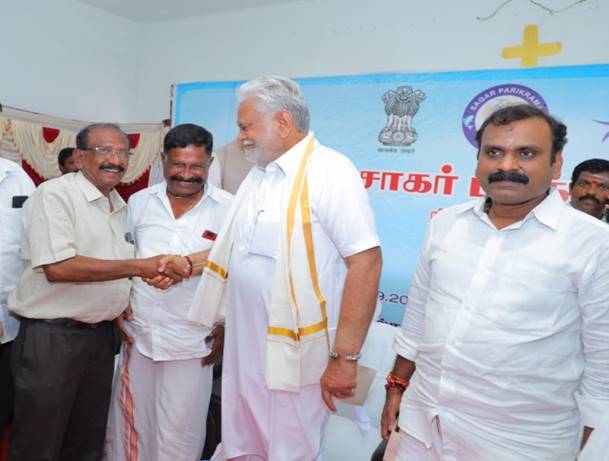 Shri Parshottam Rupala along with other dignitaries visited the coastal regions of Tirunelveli and Thoothukudi Districts of Tamil Nadu. The delegation also visited Tirunelveli and Thoothukudi district and interacted with beneficiaries such as fishermen, fish farmers. In subsequent interactions at the coastal village, fishermen urged the Ministers on various aspects such as establishing the Harbour at Uvari Village. Fishermen suggested that the department to be renamed with fishermen welfare department. Various scheme beneficiaries, fishermen, fisherwomen, fish farmers and boat owners shared their on-ground experiences with the delegation.
Union minister Shri Parshottam Rupala emphasized on Sea weed cultivation. Shri Rupala said that Sagar Parikrama is being undertaken to understand issues and challenges of fisherman, to directly connect with fishermen and fishing community, to see condition of infrastructure for overall improvement of the Fisheries sector, it will give opportunity to fishermen at their door step. He thanked everyone for providing their valuable time. He has also shared his opinion that carrying out the Pradhan Mantri Matsya Sampada Yojna (PMMSY) scheme activities shall have a significant impact on the fisheries sector in India which aims to enhance the production, strengthen coastal ecosystem and productivity of fish through the adoption of modern and scientific methods of fishing. This will not only boost the income of fishermen and fish farmers but also increase the availability of fish in the market, which will have a positive impact on food security and nutrition. Shri Rupala felicitated with KCC at Uvari Fishing Village to beneficiaries.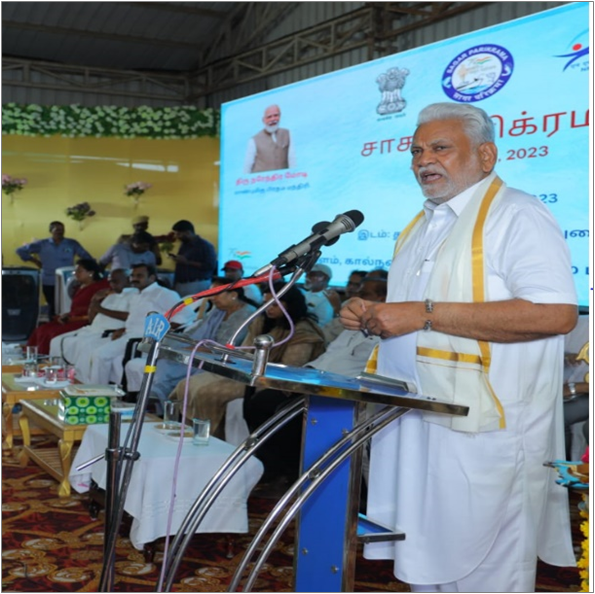 MoS, Dr. L. Murugan addressed regarding the schemes such as PMMSY and other multidimensional activities with major focus on increasing fisheries production and productivity for both inland & marine and its associated activities, including infra development, marketing, exports, and institutional arrangements. He highlighted on the announcement made by Government in 2019 about setting up of separate Department of fisheries which was immediately approved by the Prime Minister. He requested volunteers to help in creating awareness of the schemes so that the beneficiaries can take benefit of the same.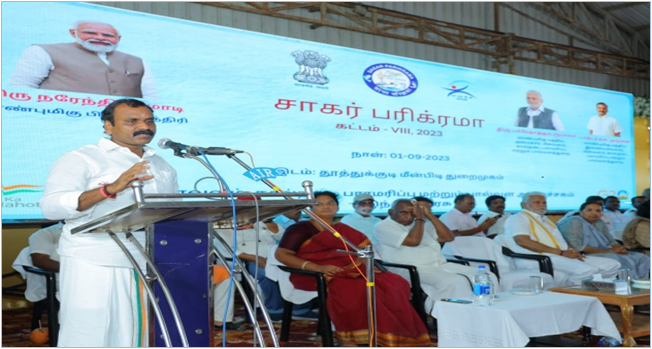 The program continued at Thoothukudi Fishing Harbour with a warm welcome of the delegation and other dignitaries by fishermen and fisher women followed by a prayer.
Shri Parshottam Rupala recognizes the critical role of fish farmers in meeting the growing demand and the invaluable contributions of fishermen and fish farmers who tirelessly work to provide us with a vital source of food and sustenance. He emphasized on sustainable fishing practices that not only increase productivity but also minimize environmental impacts.
Shri Rupala said that due to high demand of fishermen from all over the country to support them in improving their livelihood, Prime Minister established separate department of fisheries. He said that from 1950 to 2014, the investment in fisheries sector was of around Rs 3,681 Cr, since 2014 government has introduced the schemes such as PMMSY, FIDF and others with budget of about Rs. 32,000 Cr. for the development of fisheries sector by understanding the ground realities. He emphasized on the following parameters such as KCC which has been introduced for fishermen & fish farmers, requirement of seaweed cultivation for sustainable opportunity in Tamil Nadu, up gradation of fishing harbours in Tamil Nadu. He appreciated that fish production in Tamil Nadu have been increased and our fishermen have been able to interact through Sagar Parikrama Yatra.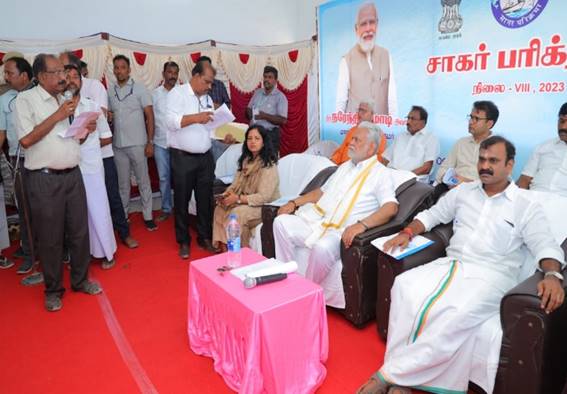 Shri Parshottam Rupala interacted with the President of Fishermen Boat Owner Association, Mr John Boscoa regarding deep-sea fishing vessel and the President of JEEVA Oli Boat Owner Fishing Community Association, Mr Jobai, regarding infrastructure development which will be crucial to gather information and insights about their experiences and challenges. He felicitated the beneficiaries like fishermen, fish farmers and other stakeholders for PMMSY related activities at Thoothukudi Fishing Harbour.
The interaction continued at Tharuvaikulam Fishing Harbour and Mookaiyur Fishing Harbour with coastal communities and fishermen to understand the on-ground scenario which will be an instrument in making informed decisions and supporting fishermen livelihoods. Around more than 2000 fishermen, various fisheries stakeholders, scholars and other officials attended the Sagar Parikrama Phase VII program.
Joint Secretary Smt. Neetu Kumari Prasad enlightened on Sagar Parikrama Phase VIII Yatra in Tamil Nadu. She discussed many prominent issues regarding economic upliftment through various schemes such as PMMSY. She also informed that the team has been taking stoke of all the issues during Sagar Parikrama Yatra such as upgradation of harbours, requirement of new jetty, fishing nets etc.
Sagar Parikrama Phase VIII, which started on 30th Aug 2023 from Vizhinjam, covered Muthalapozhy Fishing Harbour, Vizhinjam Fishing Harbour, CMFRI Centre as well as covered along the coast to Kanyakumari District, Tamil Nadu. The Sagar Parikrama Yatra encompass felicitation of beneficiaries, addressing the gathering and interactions with fishermen at various fishing harbours and villages, including Thengapattanam Fishing Harbour, Thoothoor Fishing Village, Vallavilai Fishing Village, Kurumpanai Fishing Village, Vaniyakudi Fishing Village, and Colachel Fishing Harbour. Sagar Parikrama is a program reflecting the far-reaching policy strategy of the government leading to the direct interaction with fishers and fish farmers to understand the issues of coastal areas and problems related to fishermen.