SAMBA POLICE ORGANIZED IMPRESSIVE DRUG AWARENESS PROGRAMME AT GGHSS JAKH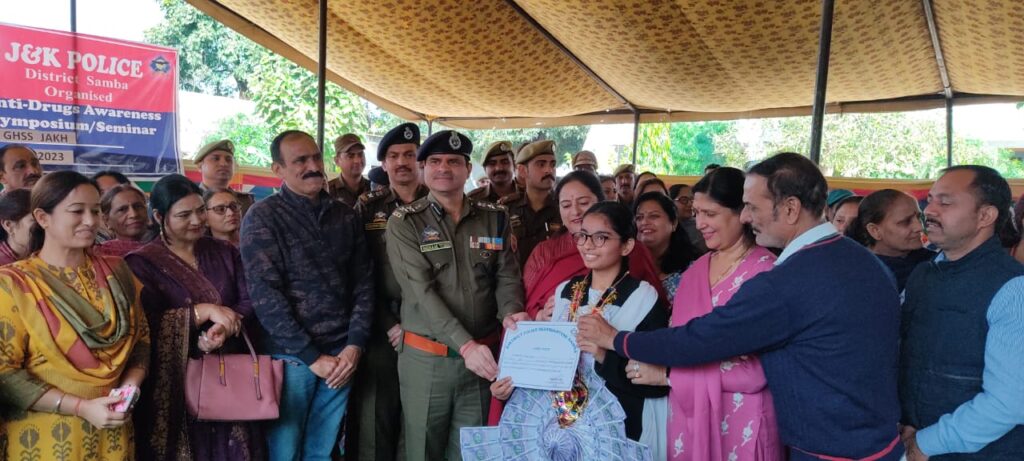 Samba, Nov 21 : Police today organised impressive drug awareness programme under CAP at Govt. Girls Higher Secondary School Jakh in the jurisdiction of Police Station Vijaypur where hundreds of students of several Govt. schools, parents, teachers, prominent citizens and police officers witnessed the speech delivering competition.

SSP Samba Benam Tosh, Addl. SP Samba Surinder Choudhary, SDPO Vijaypur Rohit Kumar and SHO Police Station Vijaypur Sandeep Charak presented certificates and cash rewards of rupees 10000.00, 7000.00 and 4000.00 to the first, second and third best student speakers namely Amit Sumbrya of GHS Meen Sarkar, Trisha Verma of GGHSS Jakh and Jyoti Kumari of GHS Palli respectively, whereas five other student speakers namely Diksha Sharma,  Mansi Sharma, Simran Sharma, Keshav Sharma and Zafia Bano and were also felicitated with certificates & cash rewards of rupees 2000.00 each. 
Hundreds of students of Govt. Girls Higher Secondary School Jakh, Govt. High School Palli, Govt. High School Tarore and Govt. High School Meen Sarkar participated in today's anti-drug awareness programme. Principal Govt. Girls Higher Secondary School Jakh Ms. Shiv Rachna thanked the police for organizing impressive anti-drug awareness programmes at Jakh to generate awareness among students and public against drug abuse. Additional SP Samba also spoke on the occasion and asked youth to stay away from narcotic substances.
On the occasion, Senior Superintendent of Police Samba Benam Tosh said that police is organizing awareness programmes at the schools & colleges as preventive strategy to save students from drug menace, even as stringent legal action against drug suppliers, smugglers and peddlers is underway. SSP said that police is on job to nab all those involved in narco-business in Samba district and nobody would be allowed in Samba district to flourish with illicit drug smuggling, supplying and peddling.