The Ayurveda medical system fabric is being woven at the global level through education, research, products and services: Union Ayush Minister

National Ayush Mission review meeting of eight states of the country organized by the Ministry of Ayush

Through its policies, strategies, and efforts, India has built a strong Ayush ecosystem at the grassroots level: Shri Sarbananda Sonowal
An organized Ayurveda eco-system is being built by the Ministry of Ayush at the global level through education, research, products, and services. Union Ayush Minister Shri Sarbananda Sonowal said this in the inaugural session of the conference being held in the context of the eighth Ayurveda Day Mahaparva in Panchkula, Haryana. Ayurvedic medicine is part of a culture thousands of years old and has been present in the society, education, service, and lifestyle of India since ancient times.
Shri Sonowal said that in the recent G20 meeting, India presented the message of 'Vasudhaiva Kutumbakam' to the member countries, which received everyone's consent, and unprecedented success was achieved through the G20 Declaration. The spirit of constantly moving forward with new experiments, of which the development of Ayush is one, has transformed India from a developing country to the fifth-largest economy in the world.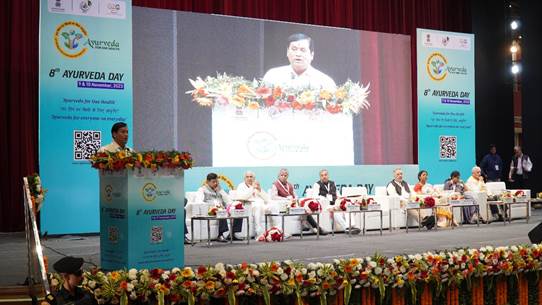 Youth and common people can create successful startups by commercially manufacturing Ayurvedic products related to agriculture, horticulture, and veterinary medicine. With the formation and growth of such startups, India's economy will become stronger by becoming a self-reliant economy.