Vizag packs a power punch for Swachh Diwali

Launches Eco-Vizag initiative to encourage cleanliness, home composting, water conservation, plastic recycling etc.
In the pursuit of achieving the goal of Garbage Free Cities and making Diwali celebrations clean and eco-friendly, it's imperative that not only citizens and institutions, but commercial establishments in cities also step forward to play their part. Bulk Waste Generators such as hotels, restaurants, small eateries and other commercial establishments, who can make conscious and game-changing efforts in ensuring large-scale cleanliness, have a big role to play. These are the entities that generate over 100kgs of solid waste every day. Making it a cause of its own, Visakhapatnam in Andhra Pradesh has launched an initiative called Eco-Vizag, which aims to advance the city of Visakhapatnam as an iconic city in terms of environmental sustainability and stable growth, focusing on five key aspects namely Eco-Clean: Clean surroundings with effective waste management, Eco-Green: Urban greenery, community gardening, home composting, Eco-Blue: Rainwater harvesting, clean beaches, water conservation, Eco-Zero Plastic: Environmental friendly alternatives, recycling of plastic, Eco-Zero Pollution: Pollution control.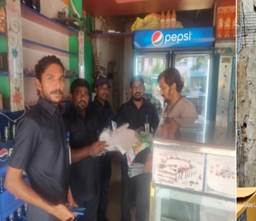 Under the campaign, enforcement teams have been formed, whose job is to keep a check on businesses including hotels and restaurants, while promoting alternative environmentally friendly products (paper, steel, glass, etc.) and fully prohibiting the use of single-use plastic. These establishments would be evaluated on various parameters such as no usage of single-use plastic and PET bottles, presence of Twin Bins, Source Segregation of Solid Waste, no aluminium foil usage for serving/packing food, awareness displays related to Eco-Vizag campaign, usage of cutlery made of wood, steel or glass and more.